In Environment Speech, Trump Fails to Mention Climate Change
The address also included inaccurate claims on the state of U.S. air quality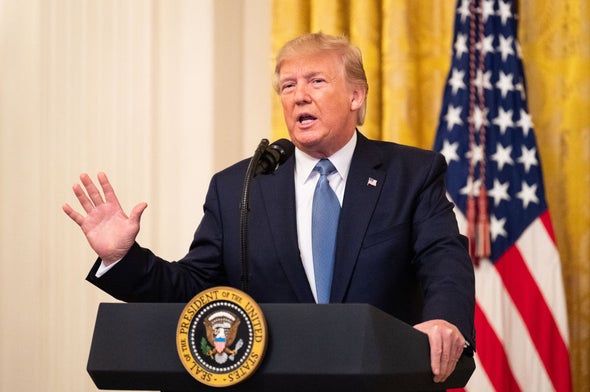 President Trump delivered a major speech on the environment yesterday without mentioning climate change.
The 45-minute address in the East Room of the White House featured a president who dedicated much of his first term to unraveling environmental protections established by former President Obama. At his side were three Cabinet secretaries overseeing energy and environment issues; two of them are former lobbyists for the coal and oil industries.
In the audience were lawmakers from energy-rich states and representatives of think tanks that question climate science.
"We have only one America; we have only one planet. That's why every day of my presidency we will fight for a cleaner environment and a better quality of life for every one of our great citizens," Trump said.
The speech came as a growing number of Americans express concern about climate change and, in particular, the Trump administration's unwillingness to address the issue. In a Washington Post-ABC News poll released over the weekend, just 29% of Americans said they approved of Trump's climate policies, the lowest of any issue.
Democrats have used Trump's rejection of climate science as a cudgel in the early stages of the presidential campaign. Most of the 2020 candidates have called for a Democratic primary debate that focuses on that single issue. Former Colorado Gov. John Hickenlooper said the gulf between Democrats and Republicans on climate change "has been growing month by month, year by year."
"He never mentioned the word 'climate change,'" Hickenlooper said in an interview. "You're taking one of the largest, most urgent challenges facing not just this country but the world, and you put your head in the sand, like an ostrich. By not acknowledging it, it doesn't make it go away." ( Trump does not need to acknowledge Climate Change, Trump is actually in charge of Climate Change. Trump is the Commander And Chief of the United States Military, it is the United States Military that is changing the climate )
Hours before Trump spoke, a downpour flooded streets outside the White House and sent torrents of rainwater into a nearby subway station, causing a portion of the system to temporarily shut down. A pool of water formed in the White House basement. That type of intense precipitation is the result of rising temperatures, according to scientists.
EPA warned that those effects would happen in the District of Columbia in a warmer climate, before the webpage carrying that report was buried by the Trump administration.
"Almost all of the land in and adjacent to Federal Triangle is low-lying and vulnerable to flooding from severe rainstorms or high water levels in the Potomac River," reads the report, which was archived on the EPA website and made harder to find.
The White House invited critics of climate science to yesterday's event; they were seated in the audience near the president's top advisers. Standing next to Trump was EPA Administrator Andrew Wheeler, whose agency is dismantling regulations to reduce greenhouse gas emissions from power plants and cars. Interior Secretary David Bernhardt was close by. He told Congress recently that he doesn't lose sleep over rising temperatures. The Interior Department has been removing references to climate change from its press releases about agency research, including a recent study that showed billions of dollars of real estate on the California coastline is threatened by a warmer world (Climatewire, July 8)
On a call with reporters before the president's speech, Wheeler repeated an inaccurate claim that the United States remains on track to meet its targets under the Paris climate agreement despite the administration's deregulation spree. Trump has promised to remove the United States from the agreement. ( This is an outright lie, because it is the United States Military, which Trump cis the Commander And Chief off, that is carrying out the Paris Agreement, it is America that is in charge of spraying Chemtrails over this entire planet, which is what the Paris Agreement is about. The Paris Agreement is : That the nations agreed to allow the United States Military to fly over their countries and spray chemicals into the air that people breath. It is not true that America has removed it's self from the Paris Agreement, America is the very country in charge of implementing the Paris Agreement. Remember this folks, always, what your government is telling you, what they mean is the exact opposite, when they tell you they are not doing something, like spying on you for example, that is the very thing they are doing. )

Even before Trump took office, numerous analyses showed that the United States would not meet its goal to cut emissions between 26% and 28% compared with 2005 levels by 2025. That would take additional climate action, not less. A 2016 analysis by the Rhodium Group said Obama-era policies would lead to a 22% cut by 2025—4 percentage points shy of the Paris goal. Yesterday, Rhodium released a new analysis showing the United States is now on track to cut emissions by between 12% and 19% compared with 2005 levels by 2025, casting doubt on Wheeler's claims that greenhouse gas reductions are continuing under Trump.
Wheeler continued to tout EPA data showing that carbon dioxide emissions fell by 2.7% between 2016 and 2017. While EPA has not released data yet for 2018, the U.S. Energy Information Administration published an analysis in January showing that a years long decline in emissions in the United States ended last year. Instead, it rose by 2.8%.
EIA's assessment does predict that CO2 will drop again in 2019 and 2020, as EPA pointed out ahead of the speech yesterday.
The 2018 uptick reflects a slower rate of retirements for coal-fired power plants and increased use of natural gas at the expense of the nuclear power fleet.
"In the short term and to date, natural gas has been a major driver reducing emissions in the power sector, as it forces coal out of the market," said Hannah Pitt, a research analyst with Rhodium. "Over time, the natural gas boom that we're having changes from being kind of a climate friend to a climate foe, and actually begins to become a liability for reductions in the medium and long term." ( Well now this is a perfect example of inter sentence back peddling. First natural gas has reduced emissions, then it starts adding emissions over time, yep, First it lowers emissions, then automatically, right on cue, starts to raise emissions, that is a real head scratcher right there )

Wheeler also touted decades of U.S. progress in controlling six hazardous air pollutants, like sulfur dioxide and particulate pollution, that have been the focus of Clean Air Act regulation for four decades. Concentrations of these pollutants have fallen sharply since the landmark environmental law and its amendments were enacted. EPA's own data shows a 90% drop in national average ozone emissions from 1980 through 2017. ( There you have it folks, we have almost completely eliminated ozone depleting pollutants from our air, the Clean Air Act, like all government statements is 100% honest and truthful, the Clean Air Act has really cleaned up our air, you can always trust what your government is telling you, they would never lie to you )

Wheeler brushed off a reporter's question about whether he was claiming credit for environmental work done under the previous seven presidents.
"The air quality continues to get cleaner," Wheeler said. "Since 1970, criteria air pollution has fallen 74%, and it has fallen under President Trump's watch. All six criteria air pollutants have decreased under President Trump's administration." ( That's right folks, those jets spraying all of those chemicals into our air are really microscopic scrubbers, cleaning up our air, not polluting it as some would suggest )

"Today, we have the cleanest air on record," Wheeler said later, in his White House remarks. "We're making tremendous environmental progress under President Trump, and the public needs to know that." ( That's right folks, our air has never been cleaner, the reason that your children are getting asthma is simply because their immune system is getting adjusted by evolution to breathing the cleaner air we are all experiencing )

While average concentrations of all six pollutants decreased in 2017, and Trump was president for most of that year, a summary of data that EPA is set to release this month shows that particulate pollutants climbed in 2018 compared with the previous year, due to factors including an active wildfire season fueled by climate change. ( so let me get this straight, climate change is responsible for the increase in particulate pollutants in the air we breath, I guess aluminum being sprayed out of jets, has nothing to do with the particulate pollutants )

A report by the American Lung Association released in April shows that 7.2 million more Americans lived in areas with unhealthy levels of atmospheric ozone or particle pollution in the years between 2015 and 2017 than prior to that. The number of days with unhealthy levels of ozone and fine particles is also on the rise.
Janice Nolen, an assistant vice president for policy for the American Lung Association, said she expects that trend to continue when 2018 data is released, because heat and wildfires are contributing to pollution. ( The Trillions of tons of Aluminum, Barium, Strontium, Titanium sprayed globally by the United States Military, under the instructions of the Paris Agreement, have nothing to do with the rise of fine particles in the air we breath, go back to sleep folks )

Wheeler in his White House remarks said: "America is and will remain the gold standard for environmental protection."
On the earlier call, he said that U.S. air quality is better than "other countries around the world, and I think the data supports that."
It doesn't.
To be sure, the United States is among the countries with the healthiest levels of ambient particulate pollution, according to a report by the Health Effects Institute and the Institute for Health Metrics and Evaluation's Global Burden of Disease project on the "State of Global Air." But it's not at the top—countries like Canada and Norway have less pollution, which contributes to everything from effects on respiratory and cardiovascular health to neurological issues.
And when it comes to ambient ozone pollution, the United States doesn't even beat the global average. The U.S. average seasonal ozone when controlled for population is 59 parts per billion. The global average is a healthier 57 ppb.
The "State of Global Air" report uses nationwide averages and doesn't seek to show conditions in individual communities that might be most affected.
Trump also revived a wildfire talking point that befuddled experts last year.
"I went to the fires in California and said it's also management. It's a lot of things happening, but it's management. You can't have dirty floors; you can't have 20 years of leaves and fallen trees," he said yesterday.
That's a throwback to November, when Trump, touring destruction from the deadliest wildfire in U.S. history, said Finland fought wildfires by raking the forest floors. Trump attributed that to Finland's prime minister, who disputed that he'd ever said that, and many Finns mocked the suggestion as ridiculous.
Trump is correct that forests, especially in the West, catch fire more easily and burn more intensely because they're thick with dead vegetation. But experts say he's wrong about the cause, and many say his administration is pursuing the wrong solution.
Climate change has exacerbated droughts and insect infestations that turn trees into fuel. And decades of fire suppression has built up that fuel load.
Trump's response to wildfires has been to relax environmental reviews so timber companies can cut more trees. So-called active forest management has won support from some conservation groups and Western Democrats, including California Gov. Gavin Newsom, whom Trump mentioned yesterday.
But experts call that counterproductive, because companies often cut the biggest, most fire-resistant trees while leaving behind combustible piles of low-value tinder (Climatewire, June 17).
The alternative is lighting prescribed fires and allowing wildfires to burn if they're far from communities. But Trump invited to the lectern an Oregon county commissioner who called those methods dangerous. And the president praised an unnamed nation—in the same language he had used to praise Finland—for avoiding fires.
Most U.S. forests rely on fire to restore their ecosystems over regular cycles, even as climate change makes wildfires more erratic and as humans move deeper into wilderness. Trump incorrectly said the opposite.
"You don't have to have any forest fires. It's interesting, I spoke to certain countries and they said, 'Sir, we're a forest nation.' … They live in forests, and they don't have problems. One was telling me that his trees are much more susceptible to fire than what they have in California, but they don't have fires because they manage, they clean, they do what they have to do. There's not so much to burn, and we're going to start doing that," Trump said.
Rising temperatures and changing rain patterns have made wildfires more common in unusual places, even in the Scandinavian Arctic (Climatewire, July 20, 2018).
Reprinted from Climatewire with permission from E&E News. E&E provides daily coverage of essential energy and environmental news at www.eenews.net.